For Sunday, May 3, 2020,
Readings: Acts 2:42-47, Psalm 23, 1 Peter 2:19-25, John 10:1-10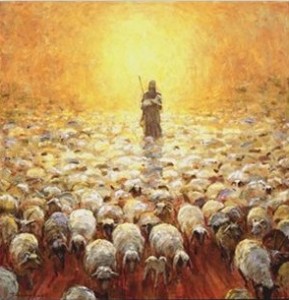 Those who had been baptized devoted themselves to the apostles' teaching and fellowship, to the breaking of bread and the prayers.
[Acts 2:42]
The LORD is my shepherd; I shall not be in want. He makes me lie down in green pastures and leads me beside still waters. He revives my soul and guides me along right pathways for his Name's sake.
But if you endure when you do right and suffer for it, you have God's approval. For to this you have been called, because Christ also suffered for you, leaving you an example, so that you should follow in his steps...When he was abused, he did not return abuse; when he suffered, he did not threaten...by his wounds you have been healed...For you were going astray like sheep but now you have returned to the shepherd and guardian of your souls.
[1 Peter 2:20b-21, 23, 24b-25]
Jesus said, "...the one who enters by the gate is the shepherd of the sheep. The gatekeeper opens the gate for him, and the sheep hear his voice. He calls his own sheep by name...and the sheep follow him because they know his voice...Very truly I tell you, I am the gate for the sheep...Whoever enters by me will be saved, and will come in and go out and find pasture.
[John 10:2-3a, 4b, 7, 9]
Psalm 23 is, without doubt, the best-known piece of Scripture in the world among multiple religions, denominations, and sects, for the believers, and for those who have no faith affiliation or belief. The poetic language ascribed to King David, a shepherd in his youth, gives us the most pastoral image available as it draws us line-by-line to how the everyday activities of actual shepherds
*
describe in detail how God cares for us.
It is also true that sometimes the familiar is too comfortable and we don't really hear the phrasing as we repeat syllables by rote. We aren't always contemplating the meaning and call to personal response and action behind them. We must listen again with fresh ears, minds, and hearts. The beauty and comfort of the Shepherd in Psalm 23 is easily zoned in on while the other readings are more easily left behind. But even this calming pastoral narrative comes with a price. We who want to know ourselves as true and faithful Christians must rouse ourselves from complacency, listen for the Voice that calls, and then follow, in earnest and in confidence. All we "have" on this earthly plain is temporary, which has never been clearer than in this current time of rampant pandemic.
For Episcopalians/Anglicans, the reading from Acts this week is infused with one of the promises made by us or for us in our Baptismal or Confirmation Covenants: "They devoted themselves to
the
apostles' teaching and fellowship, to the breaking of bread and the prayers..."
The statements of belief and the promises of the Covenant are a quick refresher and guide to the basics of true Christian living, and always worth reviewing regularly, whether or not you are of this denominational heritage and practice.
[for more information click here:
BCPonline
for the US version of the Book of Common Prayer - Holy Baptism - and scroll to pages 304-5 for the promises]
Of course, these times make the actions of in-person fellowship and the breaking and receiving of sacred bread beyond our reach for the moment. Yet there are still ways to be together-in-distance. As we break bread for our meals each day, let us remember to say a simple "grace" as we sit down to eat. Prayer and the Apostles' teachings are always readily available to us, and most of us can meet and greet each other in many other ways by mail, phone, a quick email, or online chat.
One way to pray is by using Psalm 23 aloud and inserting the name and specific pronouns of others, especially those who are the most isolated and afraid, such as, "The Lord is Margaret's shepherd, she shall not be in want…" Think about printing it out in that form and mailing it to someone in great need to connect, and re-read/pray it often for yourself.
In the lesson from 1st Peter, we are given the difficult and all-too-current reminder that although we are to suffer what we must, as Jesus in his Passion, we are not to return abuse in kind. We are to realize that by the wounds of Jesus we are healed as we
were going astray like sheep, but...have now returned...
Somedays are easier than others with political fervor at high pitch. Yet the Gospel also carries the Shepherd theme and comforts us with another serene image, that of Christ as the divine Gate that opens for all of His sheep to have salvation in a safe, and abundant pasture.
Let us not go
astray like sheep
but flock together through the open Gate, to dwell with the Lamb of God now and forever.
*
I commend to you a charming and interesting little book, A Shepherd Looks at Psalm 23 by W. Phillip Keller, for an eye- and soul-opening look at the amazing connections between the Psalm's imagery and real-life sheep farming.
LET US, GOD'S PEOPLE, PRAY
Leader:
~
Shepherd of our Souls, our Holy Gate, Your calm pasture is always open to us for spiritual shelter and encouragement. As You know us each by our names, kindle our desire to hear Your voice deep within us and follow Your call to salvation and abundant life.
By Your blood we are reconciled
RESPONSE: By Your wounds we are healed
~
Shepherd of our Souls, as you stood peaceably in front of the political authorities of Your mortal time, grant us courage and confidence to peacefully and persistently urge leaders of this Country, this Community, and this World, to legislate safety, economic compassion, and equity for all people.
We pray especially for:
Donald, our President; Tom, Chris, and Lisa, our Members of Congress; John, our Governor; Matt, our County Executive; and Mike, our Mayor.
By Your blood we are reconciled
By Your wounds we are healed
~
Shepherd of our Souls, anoint the hearts, restore the hope, and give rest from anxiety to all who are suffering in any way, and especially for those risking their own lives to give care.
We pray for those in need…
By Your blood we are reconciled
By Your wounds we are healed
~
Shepherd of our Souls, we entrust the souls of all who have left this life to Your care, knowing that they now dwell in the light of Your House forever.
We pray especially for…
By Your blood we are reconciled
By Your wounds we are healed
~ Shepherd of our Souls,
we pause in this moment to offer You our other heartfelt thanksgivings, intercessions, petitions, and memorials…
By Your blood we are reconciled
By Your wounds we are healed
~
Shepherd of our Souls, our pastoral shepherds, as Your representatives in our time with glad and generous hearts, strive by an increasing variety of ways to bring You to us, through the Apostles' teaching, prayer, and continually evolving options for fellowship. Through Your goodness and mercy, grant them peace, comfort, and stamina to continue Your work among us.
We pray especially for:
Michael, our Presiding Bishop; Kevin our Bishop; David, our Rector; Lloyd, our Rector Emeritus; Emily and Peter, our Associate Priests.
By Your blood we are reconciled
By Your wounds we are healed
The Celebrant adds:
O God of Highest Heaven, we are welcomed always into Your mystical pasture, to live and thrive on the Divine Bread of Life, Christ Jesus. Awaken us again, in this time of travail, to follow You along the right paths to enter the Holy Gate of Eternal Life, in Your glorious and infinite kingdom. We ask this through Jesus the Christ, our Guardian and Shepherd, and the Holy Spirit, Sanctifier of our souls, who together with You, reign as One God, forever, and through all eternity.
Amen.
All compositions remain the property of the owner of this blog but may be used with attribution as long as they are not sold or charged for in any way. For more information or comments, contact: Leeosophy@gmail.com